Merhabalar, bu yazımızda Projemizi SonarQube ile teste nasıl hazırlayacağımızı ve sonrasında testi çalıştırmayı göstereceğim.
Tüm kurulumları ve ayarları yaptığımıza göre artık projemizi test edebiliriz.
Örnek olarak Python-Flask ile geliştirilmiş bir Rest API proje dosyasını kullanacağım.
1 Projemizi bir editör ile açalım.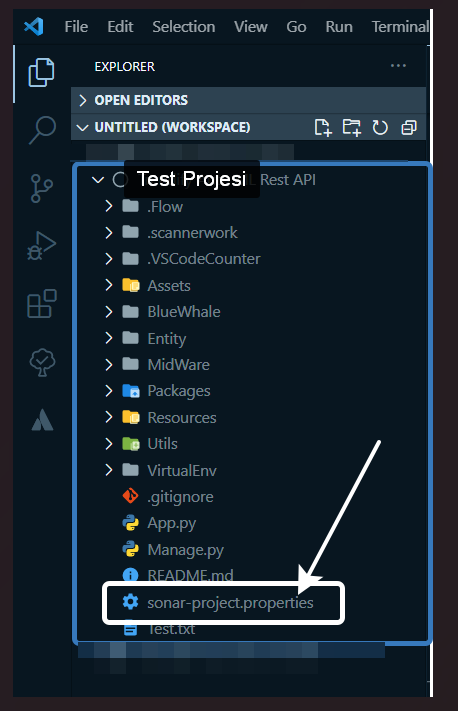 2

sonar-project.properties

Dosyasını Oluştur
Proje kök dizininde sonar-project.properties diye bir dosya yaratalım.
3 Configrasyon İşlemlerini Yapalım
Oluşturduğumuz dosyayı açalım ve içine aşağıdaki komutları yapıştıralım.
# must be unique in a given SonarQube instance
sonar.projectKey=my:project
 
# --- optional properties ---
 
# defaults to project key
sonar.projectName=My project
# defaults to 'not provided'
sonar.projectVersion=1.0
 
# Path is relative to the sonar-project.properties file. Defaults to .
sonar.sources=.
 
# Encoding of the source code. Default is default system encoding
sonar.sourceEncoding=UTF-8
Hiçbirine dokunmayabilirsiniz.
4 Terminal Açalım
Bu proje kök dizinine odaklanmış şekilde bir terminal açalım.

5 Testi Başlat
Terminal ekranında aşağıdaki komutu yürütelim.
sonar-scanner

Projenin boyutuna göre işlem süresi değişecektir.
Başarılı şekilde test tamamlandığında aşağıdaki gibi bir bildirim göreceksiniz.

Yazılım projemizin testini tamamladık.
Bir sonraki bölümlerde test sonuçlarına bakacağız.