Merhabalar bu yazımda Windows üzerinden uzak sunucuda bulunan bir MySQL veri tabanına bağlanırken aldığımız hatalardan biri olan mysql: Unknown OS character set 'cp857'. mysql: Switching to the default character set 'utf8mb4' hatasının çözümüne bakacağız.
Bu tanımlı karakter setinden kaynaklı bir hata ve eğer karakter setimizi 1252 olarak ayarlarsak sorun ortadan kalkacaktır.
Öncelikle hatamızı görelim.

Çözümü tek adımdır.
chcp 1254 
komutunu terminal ekranında çalıştırmanız yeterli olacaktır.

Hepsi bu kadardı.
Eğer chcp komutunu çalıştırırken 'chcp' is not recognized as an internal or external command, operable program or batch file. on a Windows hatasını alırsanız, çözümü için aşağıdaki yazıma göz atıp sonrasında bu adımı tekrar uygulayınız.
Çözümü sağladıysak tekrar bağlanmayı deneyebiliriz.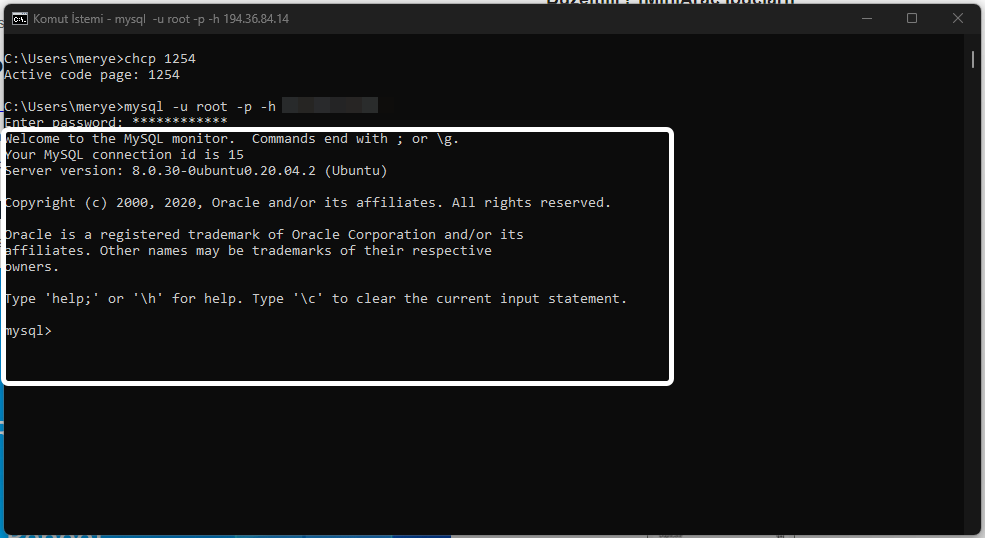 Başarıyla bağlandık bir sonraki yazımda görüşmek üzere.